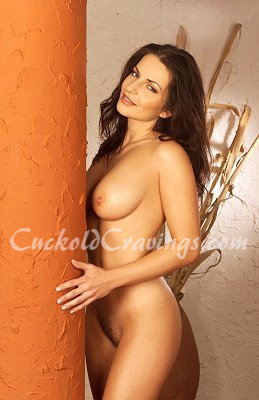 The hypnotic tone of my words wash over you, melting away your inhibition and focusing your mind and body completely upon the things I say and the sight of my body, naked before you. Just as you couldn't possibly tear your eyes away, my deep, sultry voice is mesmerizing you, pushing you out of your everyday reality and down into a realm of dark desire where our thoughts are one. Soon, you find you can't resist me, and you begin revealing dirty secrets that you wouldn't even dare to tell your own wife; fantasies wherein you are transformed into a weak cuckold on your knees, watching in breathless silence as she is pleasured by the strong men who she has craved for so long.

Before you know it, I have slipped so deep into your psyche that everything you see is me. The fantasy about your wife with another man is replaced by one where you are my cuckold husband, and in our cuckold phone sex sessions, I am teaching you your place. You would do anything for me, wouldn't you? That's how I turned my own husband into the cuckold that he is, with my brilliance and beauty blinding you until you are utterly susceptible to the power of my suggestion.

Now that you've found me, it's time for you to sit back,
relax, and let go into my control.


Call and ask for the hypnotic Vanessa.
Phone Sex Central®