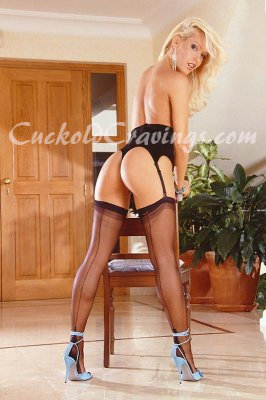 Oh, you poor thing! I've seen you staring at me, out with my young girlfriends, and even though I can tell you get a hard-on by watching, I can also tell by the bulge that it's SOOO small!

Obviously, if you get that turned on so easily, your girlfriend is as uninterested in playing with such a small dick as I would be. If she's anything like me, I bet she's screwing around behind your back, too. Don't worry. You might be a dickless cuckold, but I bet you'd make a super cute little sissy girl! We can start by putting some pink, frilly panties on over that wannabe-dick of yours.

Good thing it's so tiny, dressed up just right it can probably pass for an overgrown clitty. Next, we'll find you the perfect outfit, ideal for attracting the kind of real men that we girls desire. Eventually, I'll take you out on the town with me so that we can pick out a man or two; I want you to learn how to think like your horny girlfriend does after yet another unfulfilling session with you. Can you imagine how happy she'd be to come see you and find that you had not only brought her a big, strong lover, but that you, all dressed up like a slut, had gotten him hard and ready for her?

After just a bit of forced feminization and sissy cuckold lessons, I'll have you desperate for dick just like your girlfriend. You want to see her happy, don't you? I can't think of anything that would make her happier than to have a real man to fuck her, especially if it was her sissy girlfriend who brought that man home.

You know you'll never find another woman who will tolerate you; with such a pathetic excuse for a prick, you might as well learn to be good for something!
Phone Sex Central ®